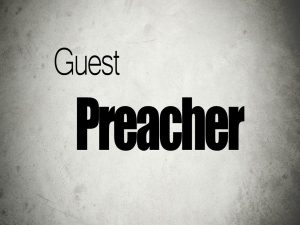 Why are guest preachers, speakers, and teachers still needed in Apostolic Holy Spirit Filled United Pentecostal Churches San Antonio TX? The pastor helps lead each individual Church. It is their role to guide the Church in spiritual matters, to instruct the church body in the scriptures found in the Bible, and to help grow the church in the name of the Lord Jesus Christ. It is crucial to the health of any Church body to have a pastor who is consistent, teaches from sound foundational understanding of the Bible, and who has a healthy personal relationship with Jesus. God has chosen each pastor to serve each Church body, and has selected those people to lean on and grow from one another for a reason. The Pastor of a local Church is should know and understand its Church body. They share regional location, common doctrine, and often personal relationships. However, this does not mean that the need for guest preachers, speakers, and teachers does not exist.
A guest preacher, speaker, and teacher can bring a lot to the table that the primary preacher, speaker, or teacher is unable to do. For example, the guest may not share the same regional knowledge of the area and its people, but they do bring an outsider's perspective to the matter. The guest preacher or speaker is not burdened with preconceived notions of what the Church body and/or its members are going through. For example, if the church is feeling fatigued by apparent lack of growth, a guest speaker may be able to provide advice on what to do differently and how to achieve that growth. A guest speaker is able to take a separate series of experiences and apply it to the Church body that it is present in. At time the guest speakers often come from larger and/or older churches, and the speakers themselves may be older and more experienced than the speakers they are coming to speak on behalf of. The guest preacher, teacher, or speaker brings with them a lifetime of experiences with which to teach from. They also bring with them the collected knowledge of what they have learned from studying the Bible, and they often carry with them different perspectives and insights from what they have learned. A great guest preacher, speaker, or teacher at your Church shouldn't disagree with or discredit the teachings of your primary leaders, but should enhance them and provide them with deeper meaning. The role of the guest speaker in the Church body is to provide this different level of insight that the pastor may not have had, or that is just differently applicable than what the pastor would have taught.
The guest speaker also has the advantage of being new and unknown during their time at the Church. The Church body does not yet know what to expect, and therefore is apt to be attentive and engaged in the message that the guest is bringing. This is no fault of the pastor's, but their mannerism and patterns are already known and anticipated, sometimes lulling the Church body into inattentiveness. A guest speaker acts as a great way to shake things up, to bring the Church body out of that lulled repetitiveness and to engage them deeper into the message. This is a great way to deliver difficult messages, or those that need to be processed more attentively to be truly understood. The guest speaker is able to breathe new life into the Church, even beyond the time of their visit. A great guest speaker leaves a lasting and positive impact on both the Church body and its leaders.
The primary pastor, speaker, or teacher also has tremendous need for the occasional guest speaker, alongside with the need that the Church body has. Being the leader of a body of dozens, and often hundreds, of people can be a taxing role. And while the strength of the Lord is more than enough to get the job done, it is occasionally refreshing for the pastor to share some of that burden with a guest speaker, even if it is just for a weekend at a time. It is also refreshing for the pastor to be fed as the learner, instead of the instructor. Again, the guest speaker is able to provide insight and instruction by looking at the scriptures and the Church from a different angle. This doesn't mean that the meaning changes, but rather that there may be deeper context or different applications depending on the challenges being faced and the role that God has selected for each individual. The pastor is able to grow and to be rejuvenated by the presence and mind of a guest preacher, speaker, or teacher.
The presence of a guest preacher, speaker, or teacher is also a tremendous blessing to the one serving as a guest. He or she is able to be heard in a new environment, and with increased attentiveness as they come with an air of excitement from them being unknown to the Church body they are a guest it. It is a chance for one Church body to recognize and to celebrate the ways with which God has blessed and grown the individual. It is a chance for the guest to be able to praise God for all that He has done in them by sharing it with others. It is a tremendous opportunity for the guest to share their heart and their story with a new audience. And above all, it is an opportunity for God to shine through them in ways he may not have done before.
The idea of a guest preacher, speaker, or teacher isn't a new one either. The apostles themselves served as guests in Spirit Filled Apostolic Churches that sprouted during the early days following Jesus' death and resurrection. The Apostle Paul utilized this role as a "guest speaker" to write his letters to the Apostolic Churches that would later become canonical books of the Bible. Guest speakers are needed in Full gospel Churches. Guest speakers are needed in the body. They allow the body to remain connected, to grow, and to be blessed by the moving Spirit of the Lord Jesus Christ. Pentecostal Life Church has been blessed to have Holy Spirit Filled guest ministers stop in to preach and teach from time to time. Pentecostal Life Church is a United Pentecostal Church San Antonio TEXAS area. If you are interested in joining one of the United Pentecostal Churches in San Antonio prayerfully consider Pentecostal Life Church.
Pentecostal Life Church is located in a suburb of San Antonio, called Schertz TX.
Pentecostal Life Church is located at: 102 FM-78, Schertz, TEXAS, 78154
Service times are Sunday 10:30 am & Thursday 7pm

Lazarus, what does that name mean to you? To most, it is the name of a man once dead, but raised from the dead by Jesus Christ. It is a preview of sorts of the latter death and resurrection of Jesus. It is a simple moment that helps define and extend the then known limits of Jesus' power to His disciples. It is an example of revival, and how that can only be achieved through the means of Jesus Christ. Lazarus was dead, he ceased to live, and his earthly potential was diminished. But Jesus is not of this Earth, the Earth is in fact of Him. So, Jesus revived Lazarus' body and in turn his spirit and the potential his life held. Jesus later performed a similar miracle when he died upon the cross and was later resurrected three days later. It is important to remember His sacrifice and the core of what it means for our earthly lives.
Just as Jesus saved Lazarus from the chains of death, He has freed all who choose to follow Him from the death that we are victims to because of our sin.
               Ephesians 2: 1-2
1As for you, you were dead in your transgressions and sins, 2 in which you used to live when you followed the ways of this world and of the ruler of the kingdom of the air, the spirit who is now at work in those who are disobedient.
Whereas Lazarus received a revival of body, we have received a revival of spirit. While sin is still an obstacle to all man and women during their time on Earth, it is no longer the end of the line. When anyone sins, our hearts become blemished. We have violated God's commandments and have been separated from His presence because of our imperfections. The wages of sin is death, meaning that under the law, sin should cause eternal separation from God. Thankfully, God loves us enough to offer us a chance at revival. He extends this offer through the death and resurrection of Jesus Christ. Jesus lived a human life, but He did not sin, fulfilling the commandments as indicated by the Law. However, Jesus still died on Good Friday. He chose to take the wages of sin, despite it not being required of Him. He took on that punishment so that we wouldn't have to. He offered us a second chance, He offered us revival. This is again reflected in the story of Lazarus, as Jesus converses with Lazarus' sister, Martha.
23 Jesus said to her, "Your brother will rise again. 24 Martha answered, "I know he will rise again in the resurrection at the last day." 25 Jesus said to her, "I am the resurrection and the life. The one who believes in me will live, even though they die; 26 and whoever lives by believing in me will never die. Do you believe this?" 27"Yes, Lord," she replied, "I believe that you are the Messiah, the Son of God, who is to come into the world."
If Jesus can revive Lazarus, He can revive the spirit of any individual, and so then shall He revive the spirit of a city, state, or nation? It's no secret that the world is not a perfect place. We live in a society filled with violence, crime, hate, greed, and every other sin imaginable. It seems hopeless and bleak at times, especially when those issues become present in a Church or among believers. But don't worry, because Jesus also spoke of these issues before ascended into heaven.
18 "If the world hates you, keep in mind that it hated me first. 19 If you belonged to the world, it would love you as its own. As it is, you do not belong to the world, but I have chosen you out of the world. That is why the world hates you. 20 Remember what I told you: 'A servant is not greater than his master.'[b] If they persecuted me, they will persecute you also. If they obeyed my teaching, they will obey yours also.
This world is not meant to be pleasant, especially for Christians who are actively trying to spread the love and message of Jesus Christ. But, He would not commission His followers to such an insurmountable task if He was not also leaving them well equipped. As believers, we have not only inherited His gift of eternal life, but the power of the Holy Spirit that dwells within us. As believers we must stand united under His Spirit and His purpose. So, I will close this post with a call to action, and a request for this nation.
As we see the world around us submitting to sin, as we see the chaos spreading around our cities, homes, and schools; let us pray. As we deal with struggles in our families, in our friends, and in our co-workers; let us pray for revival in San Antonio, in Texas, in our nation and around the world. As Satan hits us with everything that He's got, temptation after temptation passes our way; join other Full Gospel Holy Spirit filled Apostolic Pentecostal Churches in San Antonio TX and let us pray for revival. Let us pray not that these struggles, issues, and sins will simply go away; but that the Lord Jesus Christ will revive our spirits and fill millions with the Holy Spirit (Holy Ghost). Let us pray that Jesus brings revival to all of His children. Let us pray that the Church be unified and ignited with renewed fervor for it's message. Let us pray for revival. Join other United Pentecostal Churches in San Antonio as we seek the face of God for revival. San Antonio and near by suburbs desperately needs revival. If we had a great Holy Spirit sweeping revival it could affect the entire state of Texas. When need the Holy Ghost to affect San Antonio like it did in Jerusalem on the day of Pentecost! Let us call the names of a few of the counties by name that need revival. (if I miss one please call that name in prayer for revival as well.)
Bexar County Texas needs revival!
Comal County Texas needs revival!
Guadalupe County Texas needs revival!
Wilson County Texas needs revival!
As you go about your week please pray with us that a spirit of revival comes and sweep the world. Pray with us that we shall no longer be asleep like Lazarus, but be raised by the power of Christ.
We at Pentecostal Life Church would like to extend a welcome to you to come in person and join with other Full Gospel Holy Spirit Filled Apostolic Church believers in praying for revival. Pentecostal Life Church is affiliated with the United Pentecostal Church Internal. (UPCI) Pentecostal Life Church is located in a Suburbs of San Antonio Texas called Schertz. Here are some towns within 7-20 minutes of Pentecostal Life Church depending on traffic.
Cibolo TX 78108
Garden Ridge TX 78266
Universal City TX 78148
New Braunfels TX 78130 78131 78132 78135
Converse TX 78109 78239
Selma TX 78154
Live Oak TX 78148 78233
Windcrest TX 78218 78239
San Antonio TX which is Schertz largest suburb ;D
Pentecostal Life Church location 102 FM-78. Schertz, TX 78154
Service time Sunday 10:30 am & Thursday 7 pm